Trading Our Ashes For God's Beauty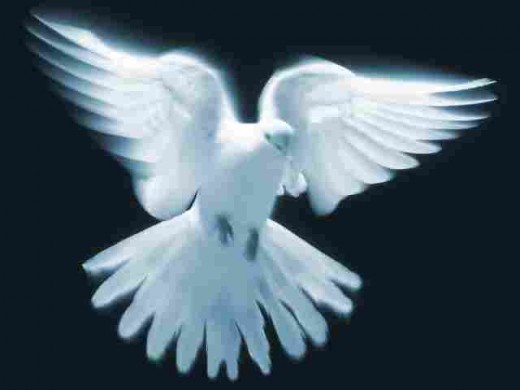 Dream Of A Beautiful White Dove
A vision from the year 2004. It was a very vivid dream. I was watching closely some activity going on, as looking out into my yard. I could see a gathering of birds on a patch of ground. At first the birds were all mingling together. Then suddenly my attention was drawn to a large white dove and the other birds just seemed to fade away in the background. The dove was the most beautiful I have ever seen, I was impressed with the majestic appearance, as something very special. I can't find words to describe it. I watched this for awhile and then as I was watching I saw that the dove was passionately working at clearing off a large plot of ground. It seemed like he was digging weeds and debris out. It was looking a  lot like a road being made ready. Suddenly, right before my eyes the place he was clearing off began drastically enlarging. Then I noticed that he began to dig down deeper, as plowing up new ground forcefully! He was taking great pleasure in his work and was making quick and determined progress. Then suddenly I became conscious that my husband was standing beside me, and I was very excited, pointing toward the vision I was seeing, and telling him to watch what this beautiful dove was doing!
My understanding after prayer and meditation;
The beautiful dove was the Holy Spirit. I had been ushered into a new place in the life of the Spirit and He was showing me through this dream the work He was beginning in my life. I had been called and had succeeded in giving him room and He was laboring for my good and the good of all my loved ones. He was preparing the way for future life changes and heavenly vision fulfillment. The land he was clearing was as a highway which led me and my house out of the old and into the new.
Isaiah 62:10
Go through, go through the gates; prepare ye the way of the people; cast up, cast up the highway; gather out the stones; lift up a standard for the people.
The other birds were people who had at one time had authority over my life and circumstances. Some were still present, and loved, but he was now the one reigning on the throne of my heart. He was taking over.
John 14:26
But the Comforter, which is the Holy Ghost, whom the Father will send in my name, he shall teach you all things, and bring all things to your remembrance, whatsoever I have said unto you.
In a deeper depth of understandings, I'm learning that many life changes bring us into a time of old things becoming ashes. Old ways of thinking and lifestyles and very often relationship matters. Right relationships are key things in kingdom life. As we learn how to co-operate with the Holy Spirit He begins to remove the old and ugly things and bring heavenly beauty into our everyday lives. The work of God brings beauty out of the ashes of the old. This is the more abundant life promised to sons and daughters of Christ..

Isaiah 61:3
To appoint unto them that mourn in Zion, to give unto them beauty for ashes, the oil of joy for mourning, the garment of praise for the spirit of heaviness; that they might be called trees of righteousness, the planting of the Lord, that he might be glorified.
The dream and revelation began to teach me things about the times and seasons of the people of God. How the Lord moves to prepare a people who will be equipped by the Holy Spirit to prepare the way of the Lord. As we surrender all control to the Lord and give him his rightful place of authority over every facet of our lives He begins to prepare the way for our journey into the promised land. As the new beauty of the Lord and King is present and reigning over our mind, will and emotions, we are able to conquer by faith the evils which come from the kingdom of darkness which are set to destroy us and those we love. We will find as we follow on to know the Lord that we are always in a process of change. We will learn that change is a constant with the God who never changes. As we hold fast to Jesus and His word abides in us He will not leave us nor forsake us.

Titus 3:4-8
But after that the kindness and love of God our Saviour toward man appeared, Not by works of righteousness which we have done, but according to his mercy he saved us, by the washing of regeneration, and renewing of the Holy Ghost; Which he shed on us abundantly through Jesus Christ our Saviour; That being justified by his grace, we should be made heirs according to the hope of eternal life.
Psalm 40:1-3
I waited patiently for the Lord; and He inclined to me, and heard my cry. He also brought me up out of a horrible pit, out of the miry clay, and set my feet upon a rock, and established my steps. He has put a new song in my mouth – praise \0/ to our God; many will see it and fear, and will trust in the Lord. –
Save
Save
Save